The Youth Sports Program has a variety of recreational programs designed to teach participants the fundamentals and strategy of sports, most importantly - sportsmanship. Participants experience a sense of teamwork promoting self-esteem regardless of their athletic skill level. We offer youth sports programs starting at age 3.
There are several different youth sports programs that are available througout the year for children to play their favorite sports at the same time as their heroes in the NFL, NBA, MLB, or NSL are playing!

Youth Sports Contacts

The people listed in the Youth Sports Contacts directory are the contacts for various youth sports leagues, however, the person in charge of the various leagues do change from time to time along with the various league contact phone number. We will do our best to keep this information up to date.
In the event you experience any difficulty in contacting the person listed for the sport you are interested in, please contact the parks office at the phone number listed below.
| | |
| --- | --- |
| Parks and Community Services Office | (559) 661-5495 |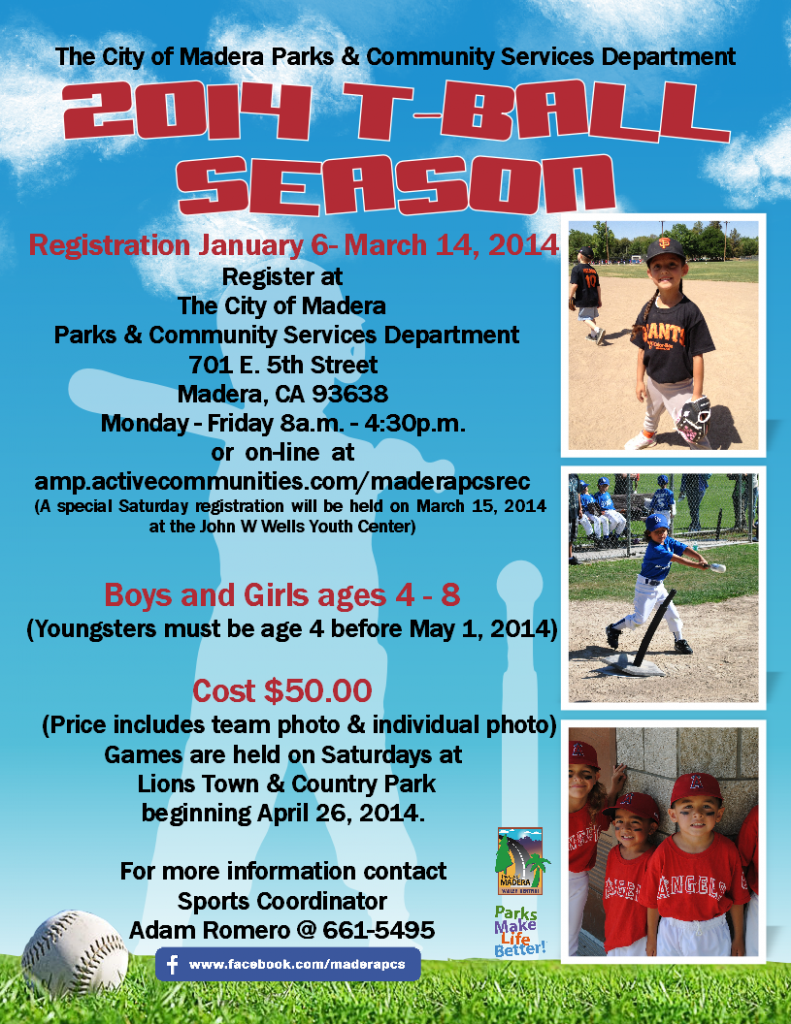 T-Ball Register by March 14, 2014
T-Ball is designed to be a fun sport where children are taught the fundamentals of throwing, hitting, and catching without the pressure of competition.
Who: 4 to 8 Year olds
When: April 26, 2014 to May 31, 2014
Where: Lion's Town & Country Park (2606 Howard Rd. Madera, CA 93637)
Cost: $50.00 Price includes non-refundable convenience fee, administration and/or online processing fee.
Register online Click Here or at our office located at 701 East 5th Street, Madera, CA 93638
**Special Saturday registration to be held on March 15, 2014 from 9:00 am to 3:00 pm at the John W. Wells Youth Center (701 East 5th Street, Madera, CA 93638)**

Coaches are needed for all age levels. If you are interested in coaching a youth sports team, you can contact Parks and Community Services Office (559) 661-5495 (All volunteer coaches will be fingerprinted as required by the State.)
We're always in the process of developing exciting new programs. Follow us on Facebook and stay up to date with the latest.